Cookie Time Christmas Cookies is an annual campaign that has been running since 1985. Each year Cookie Time Ltd recruits  tertiary students from throughout the country to run their own Christmas Cookies businesses, selling and delivering buckets of Christmas Cookies directly to the public.
Being a Christmas Cookies seller is a very unique experience that is challenging and rewarding. Past sellers say that this is a 'once in a lifetime experience' where you learn a lot about yourself and running a business. The campaign, which runs in the seven weeks preceding Christmas, offers the sellers a chance to earn heaps and still have Christmas, New Years and the rest of summer to play!
As a Christmas Cookies seller you are an "Independent Seller" – which means you are running your own business. You make a margin on all the Christmas Cookies buckets you sell. If you reach the sales target set for your selling territory your margin increases – the more Christmas Cookies you sell, the more you earn. The average seller earnings in 2015 was $8,900 before tax and the top seller earned over $18,500 before tax!
As a Christmas Cookies seller you'll gain the experience future employers will love and set your CV apart by being part of an iconic Kiwi success story. Running your own business equips you with key management skills that are invaluable for any career path.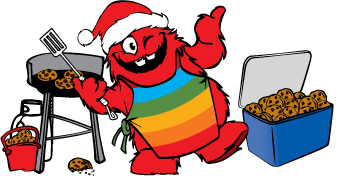 As a Christmas Cookies seller you'll:
Use your cookie charm to sell buckets of cookies, turning them into bags of cash
Manage your own business and sales territory, working to achieve targets and earn more as each target is reached
Sell to staff within the businesses in your sales territory, plus look for extra opportunities with evening and weekend sales
Be part an iconic Kiwi success story. For more than 30 years, Cookie Time has been nurturing generations of young entrepreneurs through the Christmas Cookies campaign
Get the tools of the trade at our exclusive, all-inclusive Christmas Cookies Conference held 3-4 November. You'll also be assigned a mentor to help you get the most from running your own business
Manage stock, logistics, distribution, inventory, banking, GST and paperwork
Deliver all orders to customers by 24 December so you can holiday from Christmas Day!
Selling Christmas Cookies is an amazing experience for students who love a challenge, work hard and want to make the most of this fantastic summer job opportunity. Before you start selling you will receive full training and you will also be assigned a mentor to help you get the most from running your own business.
What you need to be a Christmas Cookies Seller…
Resilience, tenacity, attitude and cookie selling charm
Entrepreneurship, enthusiasm, energy, passion and a sense of humour
Great communication, organisation and time management skills
Students studying for any degree, from any tertiary provider
Must have a driver's licence, use of a car during the campaign plus a mobile phone and access to a computer, printer and the internet
Plus storage space for the many pallets of cookies you'll be selling
And no exam clashes for our Christmas Cookies induction conference 3-4 November
PS. No CV required, simply fill in an application form online
This is a full-time opportunity. 40 hours a week is expected but successful sellers usually work 60-70hrs/week. You receive support from Christmas Cookies HQ, Campaign Management, your assigned mentor and other sellers to ensure you're getting the most from this opportunity.