Join the Cookie Time family and own your own piece of New Zealand's BEST* FMCG distribution franchise. We're all about relationships and we're devoted to customer satisfaction, that's why we've built a
business model that revolves around delivering smiles! This flourishes through the strength of community we've created around our iconic brands, and it ties in with our company vision – a taste for every occasion, a smile on every face.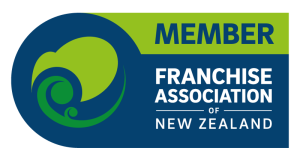 NEW: We currently have a franchise opportunity available in Gisborne, Auckland to Avondale, Taupo/Rotorua.
Every day is different for a Cookie Time franchisee, but it's all about meeting people, nurturing relationships, and caretaking our precious brands including Cookie Time, Bumper and OSM. It's the smile shared as you enjoy a cookie, the thumbs up for Bumper Bar, or the high five at a mountain peak (thanks OSM for fueling the ascent).
Be your own boss, set your own schedule and go the extra mile for happy interactions and returns that reflect your best efforts. Your van is your mobile office, your big brand billboard, your calling card. And you're in the driving seat to ensure each store display is perfect, product is as fresh as possible and and every consumer has a delicious experience. With established customers, plus growth potential.
Anyone can distribute product. Only a Cookie Time franchisee can deliver smiles
Cookie Time is a family owned Christchurch company, home to much loved Kiwi brands including Cookie Time, Bumper and OSM.
Cookie Time was founded in February 1983 with the delivery of 70 jars of Cookie Time® Original™ Chocolate Chunk cookies to 70 Christchurch stores. People quickly fell in love with this giant taste of happiness. Made with real chocolate and real ingredients and batch baked in traditional rack ovens, Cookie Time cookies are New Zealand's favourite cookies and New Zealand's most trusted cookies. From the get-go, Cookie Time was created for serious cookie munchers; lovers of cookies who appreciate quality, taste and value, and know there's nothing like a cookie to remind us of the comforts of home.
Entrepreneurship and innovation are in our DNA, and Cookie Time Group also leads the way in snacking and functional foods with the Bumper and internationally patented OSM brands.
Market trends from rapid growth in plant-based eating and increased focus on health and wellness, through to sustainability and demand for products that are made with 'real' ingredients, such as would be found in your kitchen cupboard, are all integral to our business.
Bumper, originated in 1985, is a snack brand that's full of tasty stuff, from wholegrains, fruit and chocolate, through to nuts
and natural goodness. OSM® stands for One Square Meal®, reflecting our commitment to making real food that offers nutritional benefits to fuel your life. The original OSM – All-Terrain Nutrition™ broke new ground in 2006 with its world first, patented nutritional balance. OSM Everyday Nutrition™ is designed to meet the needs of everyday
consumers, delivering go-to, plant-based snacking with enviable nutritional credentials and a patent pending. The Original Craft™ Bar is the latest addition to the OSM range. 100% plant-based, handcrafted bars, made with five nuts and seeds – a delectable, artisanal style everyday snack.
Innovation is ongoing at Cookie Time, and new products are released frequently. There is always room to grow your business!

All our products are proudly made in New Zealand. We are committed to sustainable business practices and reducing our environmental footprint. We are also proud to have launched our first compostable packaging, wrapping the 60g Plant Based Original Chocolate Chunk Cookie.
We are committed to giving back to our communities, through ongoing support for KidsCan and other charity partners, and for the Cookie Time Charitable Trust, with more than $2 million raised to date to help New Zealand children discover their gifts.
Cookie Time Limited offers the best of both worlds for franchisees – independence and business ownership, supported by a growing portfolio of treats and healthy snacks to deliver rewards that directly reflect your best efforts. With NO ongoing fees!
Moreover, it's a 'safe bet' in a stable industry seeing growth year on year. Our average franchisee tenure is 10+ years, so it's hard to come by a run as our existing franchisees don't often leave! When an opportunity does come up, there's a lot of good reasons to join us:
Start earning from day one – every sale earns a margin
Stable industry and established customer base, plus growth potential
Satisfaction of growing success from your own hard work
Fun products, great reputation
Contribution to customers and community
Autonomy and flexibility
Independence from politics, and the rigidity and frustrations of working for someone else
Lower risk than starting a business from scratch
Seeing success grow from your own hard work
Strong systems, with 35 years franchise expertise
Training and support from our network community plus helping hands in head office
When you join the Cookie Time franchise network, you're joining a community who will support you – and we train you in everything you need to know you. Whilst FMCG industry experience would be a bonus, what we really value are effective communicators with a growth mindset and a passion for genuine interactions. You must be driven to deliver a superior experience to our customers and consumers and take ownership of the results. Cookie Time will walk you through everything, but a sense of business acumen, financial literacy and confidence in business development would be a plus.
Purchasing a Cookie Time franchise requires a financial investment comprising:
10% goodwill of the existing customer base (of MAT sales at time of purchase)
2.5% Administration fee (of MAT sales at time of purchase)
Toyota Hiace van (or similar as approved by Cookie Time) approx. $50k
+ sundries to run your business (iPad, uniform, home office set up)
You distribute our brands to outlets in your franchise territory, taking a margin from every product sold. You grow your business and sales by increasing your ranging, securing new outlets, lifting promotional awareness of our products in the trade and delighting customers – delivering those smiles far and wide.
Our franchises are rarely for sale, so what are you waiting for?
Register your details, and either Dawn, Sam or Nicola will be in touch to talk you through the Cookie Time Limited franchise network opportunity
We like to keep it simple, with a seven step sale process: